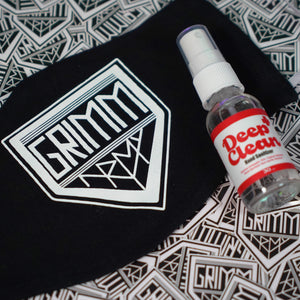 Stay safe and rep your loyalty to the cause with this machine-washable Grimm Army fabric face mask. Remember to always wash your hands, and don't touch your face! *this listing does NOT include the 30ml bottle of Deep Cuts Sanitizer. 
Washing Instructions: Hand or machine wash  with warm water, hang dry.
Disclaimer: The face cover should not be used (1) in any surgical setting or where significant exposure to liquid, bodily or other hazardous fluids, may be expected;(2) in a clinical setting where the infection risk level through inhalation exposure is high; or (3) in the presence of a high intensity heat source or flammable gas. GrimmGreen, LLC makes no warranties, either express or implied, that the face cover prevents infection or the transmission of viruses or diseases.